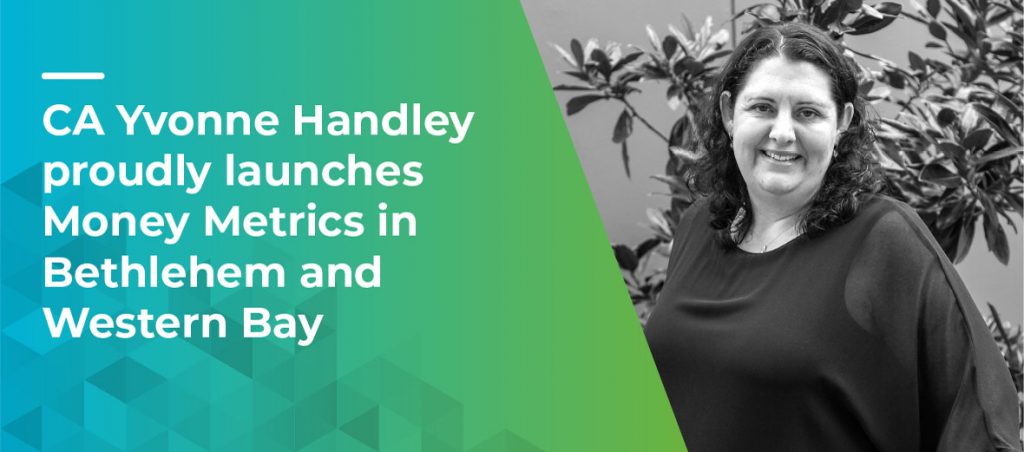 Money Metrics is excited to announce our new team addition. We hope you will join us to give a warm welcome to Yvonne Handley, new franchise owner for Bethlehem and Western Bay. Yvonne is not one to muck around, so she's super keen to crack on and get down to business.
Roaming from Judea to Waihi Beach and everywhere in between 
Our roaming workplace model means Yvonne will be clocking up the miles across her diverse city and rural territory – Bethlehem and the Western Bay. Having lived in Tauranga since 2004, she knows the area well. Expect to see her in and around the likes of Judea and Bethlehem on a frequent basis and ticking away the k's from Te Puna to Waihi Beach in the Western Bay. Favourite haunts will also be the various coffee spots dotted around the Omokoroa Peninsula. So if you spot Yvonne in the distinctive blue and green Money Metrics branded vehicle, be sure to stop and say hello. 
Committed to charting accounts since 2001
Some people are born with an intuitive financial compass, and Yvonne is one of the lucky ones. Working with numbers came naturally to her from a young age. Debuting her skills at Ernst and Young in 2001, it wasn't long before Yvonne was navigating the financial ins and outs of kiwi business with ease.  Over the past 20 years she has worked with EY and KPMG tax and business advisory services, Westpac and ASB Commercial Banking as well as a stint as a sole practitioner and tax agent.
This financial explorer is a successful and busy mum of three
Talk about juggling the numbers… Yvonne's whanau includes a set of twins! Her 16 year old girls are in their second to last year at Tauranga Girls College (where she is chair of the board) and their brother is in year 8 at Tauranga Intermediate. Together with her husband, her children are the foundations of Yvonne's balance away from the books. Typical downtime will involve family road trips around the country, camping holidays, movies, shows and concerts.
Behind community causes
In addition to chairing the board of Tauranga Girls College, Yvonne and the Handley family are proud supporters of Tauranga and Mount Yacht Clubs, Riding for the Disabled and the Tauranga Indoor Radio Control Car Club.
A big thanks from us
So from the growing family at Money Metrics, thank you Yvonne for choosing to join us in this next stage of your career. We are looking forward to some great times ahead and supporting you on your journey.